Knox Area Weekend To Do List, April 21-23, 2023
Posted by Eleanor Cippel on Wednesday, April 19, 2023 at 8:00 AM
By Eleanor Cippel / April 19, 2023
Comment
When: Sunday, April 23rd, 10am-2pm
Where: Ijams Nature Center / 2915 Island Home Ave. Knoxville
It's Mayapple Marketplace time at Ijams Nature Center! This annual spring celebration will feature 30 local plant nurseries, gardening vendors, local artists and crafters, food trucks, and more!
Come shop for plants for your yard, art for your home, or just spend a great afternoon browsing the market. This market has something for everyone!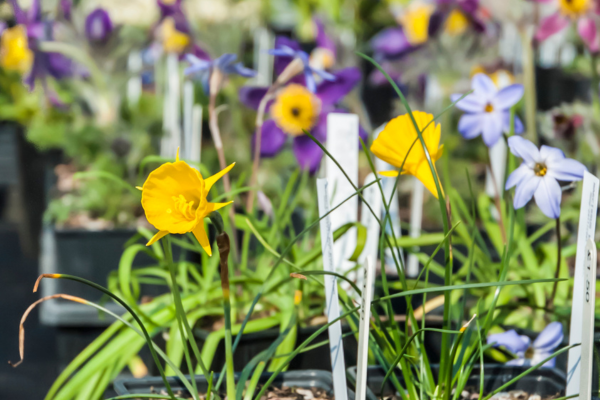 Where: Downtown Knoxville
If you are looking for some delicious food you cannot miss out on the Rossini Festival this Saturday. They have it all from Tacos to Greek specialties and even your favorite adult beverages. There will be a wide variety of local and international cuisine. No doubt there will be something for everyone.
The Rossini Festival isn't just about food and drink though (although that's a major part) Rossini is Knoxville Opera's annual International Street Fair that celebrates the global impact on the music, food, art, and culture of East Tennessee. Now in its 20th year, there are now four stages along with street performers. Hundreds of artisans will gather to sell their wares and artists, grouped together on Artisans' Row, will demonstrate the HOW behind the WHAT by showing visitors the process behind their crafts.
Fun and family-oriented. Admission is always free.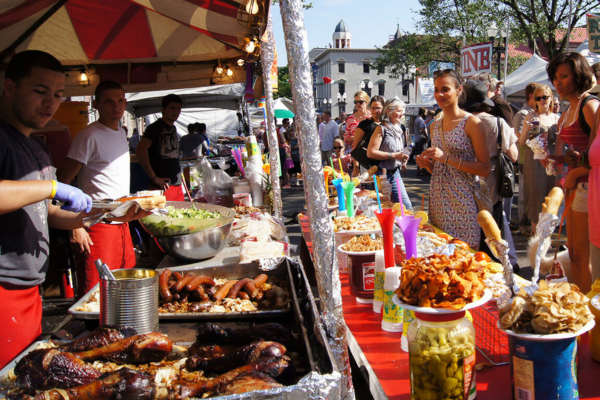 Photo Courtesy of Rossini Festival
When: Friday, April 21st, 6:30-7:30pm
Where: Pur Taproom / 207 West Jackson Ave. Knoxville
Every Friday join with other runners of skill levels for a free fun run. Start off at Pour Taproom and run 3ish miles through downtown, World's Fair Park, and the river walk. Finish back at the taproom for 10% off drinks!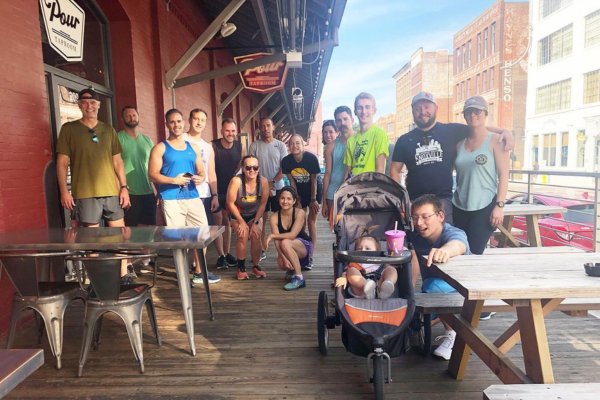 Photo Courtesy of 865 Running Facebook Page
Listed By: Kathleen Wallace (865) 441-6526 and Tina Ribich (865) 640-7197, Real Broker, LLC
Privacy! Jaw Dropping 180° Views! 1.02 Acre Corner Lot! Additional Guest Honeymooner Cabin 544 sqft! 3 Levels of Covered Decking! Custom Built, CobbleStone Outdoor Patio with Wood Burning Fireplace! Come to the Smokies for a visit and enjoy the untouched Foothills Parkway View that will never be built on! Obstructive Views of undeveloped land. 180° of views with some tree removal could be 300 degrees of mountain and valley views. So much serenity, you will never want to leave the cabin. Abundant walls of glass throughout the cabin means it does not matter which room you are in; you know you are in the most beautiful parks in the nation. Grab your groceries and stay because you will not want to escape the serenity.
Brothers Cove is a very beautiful subdivision that is private, gated with community pool overlooking Waldens Creek Valley. Current rental company does not rent the honeymooner which could bring in more income. Rental company stated that this cabin is one of their most popular cabin on the program.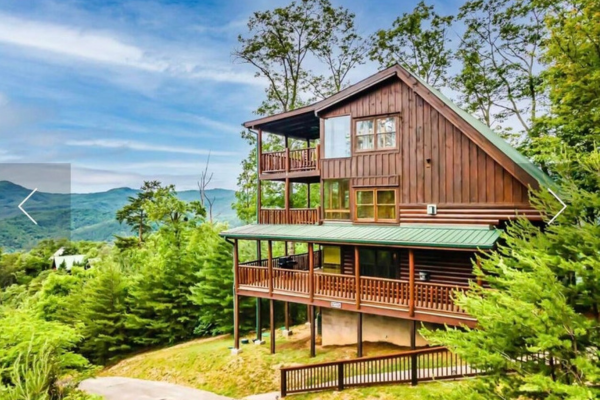 When: Saturday, April 22nd, 2:30-5:30pm
Where: Victor Ashe Park / 4901 Bradshaw Rd. Knoxville
Head to Victor Ashe Park Park for a family fun day play date. There will be games like soccer, ring toss, kickball, tug of war, egg races, sack races, and more! In addition to the large playground there is a greenway that is perfect for bikes and scooters. Light snacks, fruit, and water will be provided. This is a free event!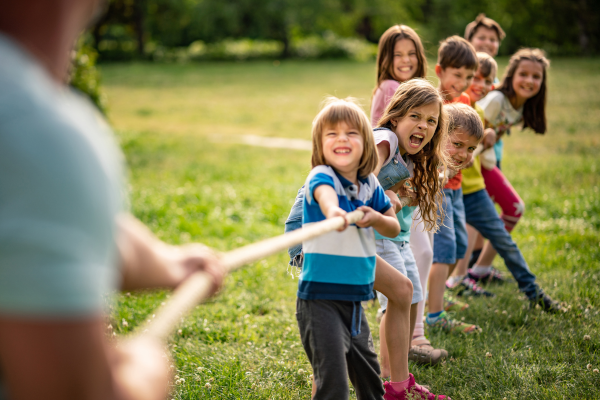 When: Friday, April 21st, 6pm-8pm
Where: Hard Knox Pizzeria / 4437 Kingston Pike, Knoxville
Pizza + Music? Is there a better combination? Enjoy the music of Gypsy Moon on the patio with some slices of some of the best pizza around.
Gypsy Moon is a high energy highly eclectic musical couple focused on entertaining and breathing life into any event. A "Gypsy Moon" show is sure to deliver dance-able classic rock favorites, mixed with high energy modern country, topped off with some vocally spirited ballads.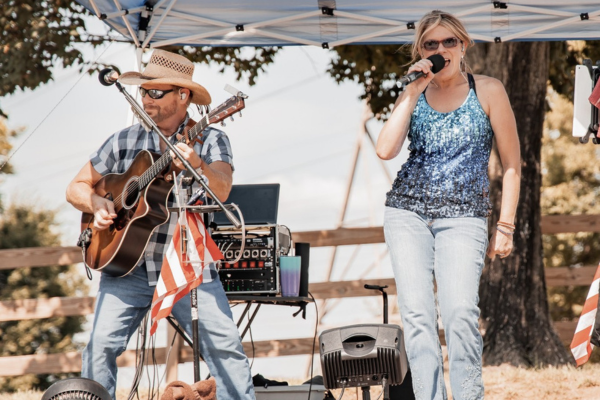 Photo Courtesy of Gypsy Moon Facebook Page
When: Sunday, April 23rd, 1pm-8pm
Where: Creekside Good Food - Good Vibes / 6729 Malone Creek Dr. Knoxville
Taste the newest sweet treat to hit the streets in Knoxville. CJ's Ice Oasis will be serving up traditional shaved ice and spiked ice with a variety of flavors to choose from. There are 8 different self-serve flavors, the options are endless. Top it off with their signature cream for the ultimate treat.
There will be $5 "Top Shot" Drink Specials from the Annex Bar at Creekside with a variety of rum, flavored vodkas, and more.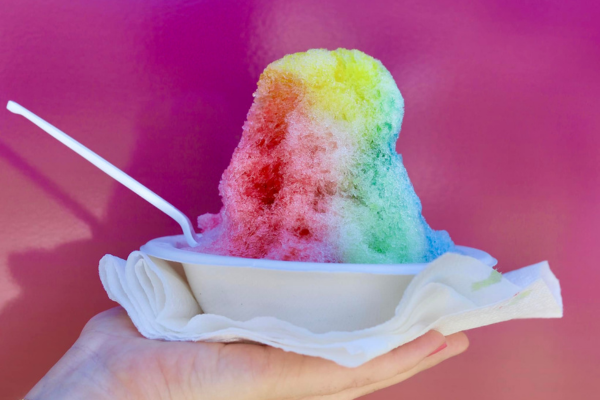 Photo Courtesy of CJ's Ice Oasis Facebook Page
Get The Great Life RE Weekend To Do List Delivered To Your Inbox Each Week