eXp Realty Agents Now Have Additional Sources of Potential Revenue
Posted by Eleanor Cippel on Tuesday, August 30, 2022 at 2:52 PM
By Eleanor Cippel / August 30, 2022
Comment
eXp Realty Agents Can Build Their Referral Pipeline By Becoming Certified in eXp Relocation, REO, and Affinity Services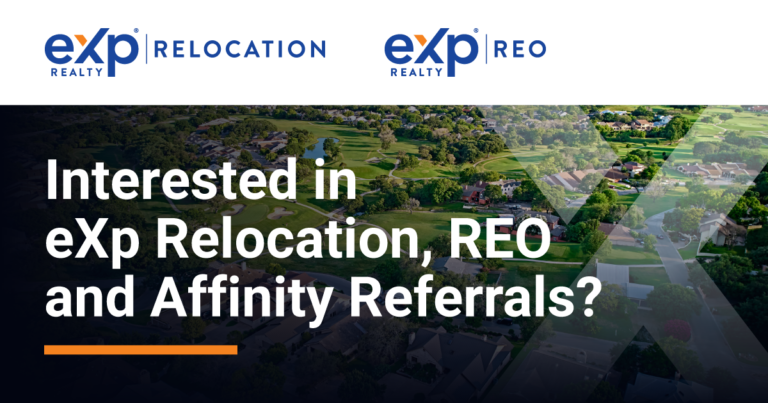 eXp Relocation and eXp REO (Real Estate Owned properties) are two referral generation programs that eXp Realty offers to its agents. In addition to ExpressOffers and the Making It Rain programs, eXp's new eXp Affinity division offers employee or membership benefit programs to individuals moving outside of a job-related move. All of these businesses capture quality referrals for eXp Realty agents through established industry relationships with top relocation management companies, banks, hedge funds, corporations, organizations and iBuyers.

Becoming certified in eXp Relocation and eXp REO (Real Estate Owned properties) has many benefits!
eXp Realty agents can diversify their business and add another potential revenue stream by becoming certified in the eXp Relocation and eXp REO programs. New Affinity certification training will be launched live at EXPCON 2022 in October. With these certifications, agents can have access to:
A referral network built through eXp's relationships with Relocation, REO and Affinity businesses.
Being the exclusive real estate service provider for Bundle Select's audience of 250+ companies and their 6.3+ million employees
24/7 support from our team of experts
"To be able to work with Relo and REO is a big deal because you get listings," said Matthew Stewart, an eXp Realty agent located in Sacramento, California. "If you just get one leg as your primary stream of leads and lead generation business, that can go away at any time. It should be like a three-legged stool, or maybe four-legged. You'll have your expireds or your farming, but another strong leg would be your REO or Relo. And that is typically a very strong and solid stream of business that comes in."
How Big Are the Relocation and REO Opportunities in the U.S.?
To understand the depth of the referral pipeline for these programs, here are some quick facts:
Facts About the Relocation Business:
27.1 million people per year relocate in the U.S. [Source: Move.com]
21% of moves per year are job-related [Source: JCHS]
$14 billion relocation industry market value [Source: IBISWorld]
Facts About the REO Business [Source: ATTOMdata]:
185% year-over-year increase of property foreclosure filings in the U.S.
117% year-over-year increase of repossessed properties by lenders in the U.S.
1 in 4,549 housing units had a foreclosure filing in May 2022
How To Become Certified:
Each program offers separate and specific training to become certified. Once certified in eXp REO, eXp Realty agents qualify to be assigned to manage and list bank-owned (REO) properties. Once certified in eXp Relocation services, eXp agents qualify to be matched to assist corporate relocation clients.
Training to become certified in each of these programs takes place in eXp World. Each training takes 12 hours to complete and is done in four, 3-hour modules, taught by experts in the field. Training for each program is offered every month, so there is always a cycle to jump into.
You Could Start Fast-Track Training at EXPCON:
Fast Track Certification will be offered for the Relocation, REO and Affinity businesses at EXPCON 2022. Each track will be offered in a three-hour certification course: eXp Affinity will take place on Wednesday, Oct. 12 from 1:30-4:30 p.m.; eXp Relocation on Thursday, Oct. 13 from 1:30-4:30 p.m. and eXp REO on Friday, Oct. 13 from 1-4 p.m.
Want to know more about eXp Realty?! Let's Chat!
Or you can find more information at: https://eleanorcippel.exprealty.careers
Lainey Jones

(865) 356-5003
| | | |
| --- | --- | --- |
| | | |