Father's Day Gifts Your Dad Will Love!
Posted by Eleanor Cippel on Tuesday, June 8, 2021 at 11:00 AM
By Eleanor Cippel / June 8, 2021
Comment
There's something about Father's Day that gives even the most thoughtful among us a case of "gifter's block." Perhaps this is why Father's Day gifts usually border on the cliche — like a tie bought in a rush, or a random item featuring his favorite sports team's logo. Instead, make 2021 the year this tradition ends. We all know he says he loves the underwear and socks (and sure, he needs them. . . ) but how about something a little more exciting this year?
Experience Gifts:
1. Ball Game: Wrap up a new baseball glove
or baseball hat, but surprise Dad with tickets to see his favorite team. Professional baseball games can get expensive, so consider attending a minor league or local college game—they're just as fun!
2. Hiking day: Introduce your dad to the awesome art of geocaching and give him a handheld GPS
. Geocaching is an absolute blast, and not only will Dad be intrigued, he'll be totally up for the challenge of finding those caches!
3. Concert: Bring some of Dad's music to life by finding out when his favorite group is coming to town. Tickets to a concert may be a little pricey, but isn't Dad worth it?
Gifts of Knowledge:
4. Classes: Wrap up a course book from the local community college and tell Dad that he can register for a course he's wanted to take next semester. Or if Dad's not the studying type (or already has the degrees he wants!), find a class that aligns with his hobbies or interests. Consider: riding lessons, woodworking lessons, cooking lessons, or dance lessons (with Mom, of course!).
5. Training: Sometimes it's hard for dads to admit they need help with something, so a private trainer is the answer. Whether it's a personal trainer at the gym, a few hours with the golf pro at the course, or solo time with a speed coach, whatever Dad loves, there's a pro out there to help him improve.
6. Stylist: Though he may not think he needs a personal stylist or a make-over, many dads need a little jumpstart to move them in the direction of finding their best self. Most department stores or salons offer styling and make-overs. Believe me, Dad will love it.

Subscription Gifts:
7. Music Channel: Tons of music subscription channels are on the market now, so shop around and find one that suits Dad's needs. Wrap up a pair of headphones along with a note explaining the gift, and Dad will be a happy guy.
8. Favorite Television Channel: Whether Dad loves movies or sports, news or the arts, there is a premium subscription channel for him. Treat him to his favorite for a few months, and I'm betting he'll be over the moon.
9. Magazine Subscription: Time, Sports Illustrated, Vibe, or National Geographic. People, Wired, Men's Health, or Car & Driver. Though we're in the digital age, magazines are still super fun to receive, read, and share.

Gifts of Love:
10. Really, all Dad wants for Father's Day is to know he is loved and respected by his family, so do for him what you know he will love and appreciate. Consider:
Making all the meals for the day
Taking over Dad's household chores for the day
Treating Dad to a foot massage or back rub
Putting on a show or play for Dad
Playing music or singing a song for Dad
Writing a story about Dad or a poem for him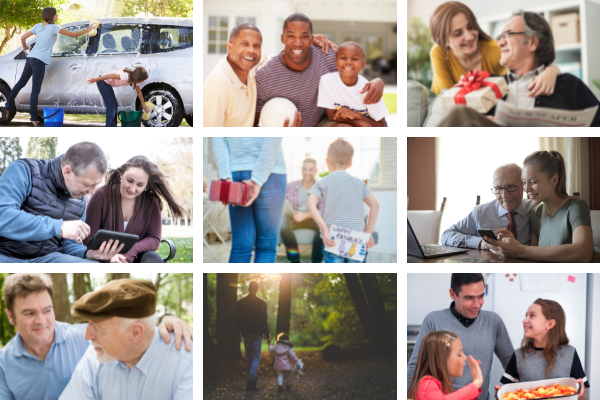 This information was originally taken from teachmama.com.